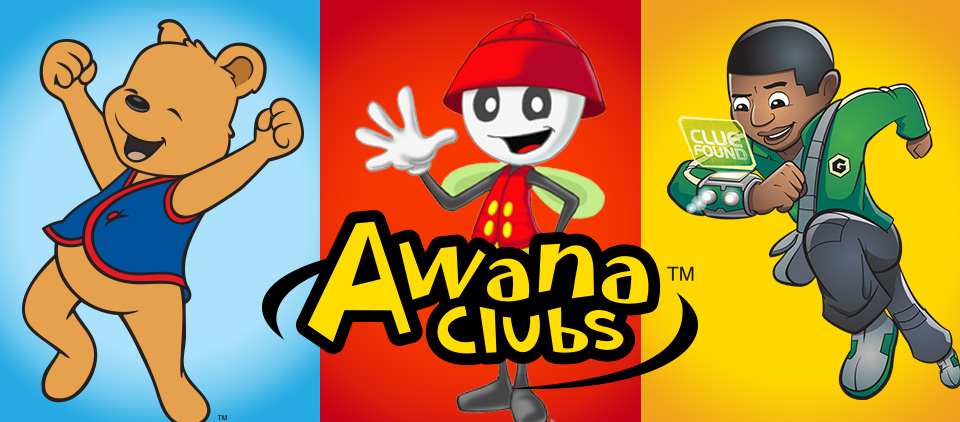 What is AWANA?
AWANA is a Bible based club for children and students where they participate in scripture memorization, games, worship & message time.
Why join AWANA?
AWANA helps children and students memorize God's Word.
AWANA is centered on the gospel.
AWANA combines learning of scripture with fun games and activities.
AWANA teaches children to serve.
Who?
AWANA at Arcadia is for children and students ages 3 years old through 6th Grade.

AWANA participants are divided into the following groups:
Cubbies: Ages 3 – 4 years of age
Sparks: Kindergarten through 2nd Grade
Truth & Training: 3rd through 6th Grade
What?
Game Time gets children involved through AWANA circle games and playground favorites that encourage them to work together as a team as well as compete individually.
Handbook Time children work with a club leader to complete sections in their handbooks. As children progress, they earn rewards for their achievements.
Council Time gathers the children for activities that teach a Bible message.
When and Where?
Wednesday's from 6:00pm – 7:30pm
September 29 – Vacation T-Shirt Night!
(Wear a shirt from a place you've been on vacation)
October 6 – No AWANAS! Come with your parents and enjoy activities
outdoors and watch the SFHS Homecoming Parade!
October 13 – Double Ticket Night! Prince and Princess Night! (wear a crown)
October 20 – AWANA Store! Twins Night!
October 27 – No AWANAS! Come to our Lot of Loot tonight!
November 3 – Jungle Night! (Wear animal print or a shirt with a jungle animal on it)
November 10 – Canned Good or Shoebox Gift!
(bring a canned good for 200 tickets OR last change to bring a shoebox gift for 200 tickets)
November 17 – Neon Night! (wear a tie-dye shirt or a glow stick necklace)
November 24 – No Club – Thanksgiving Break
December 1 – Nickel and Dime Night! (Bring a donation for Lottie Moon Missions)
December 8
– AWANA Store and Pajama Night!
December 15 – Ice Cream Sundae Night / Christmas Party
December 22 – No Club – Christmas Break
December 29 – No Club Christmas Break
January 5 – Crazy Hat Night!
January 12 – Double Ticket Night! Rain Boot Night! (wear rain boots)
January 19 – Sticker Night! (wear silly stickers)
January 26 – Sports Jersey Night!
February 2 – Hero Night! Dress like a hero!
February 9 – Love Bears All Things! (Bring your favorite teddy bear or stuffed animal)
February 16 – Valentine's – Wear red or pink!
February 23 – President's Day – Dress Patriotic!
March 2 – Western Night!
March 9 – AWANA Store and Slipper Night (wear house slippers or silly slippers)
March 16 – No Club – Spring Break!
March 23

– Lifesaver Night!
(Dress up as a first responder)
March 30 – Orange You Glad Night!
(wear something orange)
April 6 – Boot Camp Night!
(wear camo)
April 13 – Fashion Disaster Night/Dress as mix-matched as possible!
April 20 – Silly Sock Night!
April 27 – Dots and Stripes Night! Wear Polka Dots or Stripes!
May 4 – Old Fogey Night! (Dress old fashioned)
May 11 – AWANA Store! Tacky Tie Night!
(wear one of your dads or grandads tacky ties)
May 18
– AWANA Awards Night! Wear Your Uniform!